NCRS Store Help
Welcome to the NCRS Online Store. You are probably here because you are having trouble navigating our store. The store is very similar to most other stores you find on the internet. You select a product or products to buy. From there you go to your Shopping Cart to look over what you have and make sure you haven't inadvertently double purchased anything or missed out on something that you wanted.
Joining NCRS as a new member.
Please follow this link to the instructions for New Members to Join.
Existing NCRS Members
Members begin by logging in to the store to receive member prices and to speed up the checkout process. Find the Log In link at the upper right hand corner of the page. If you have never logged into our site before you may need to create an account.


Next fill in your User Name in the correct format. FirstName [space] LastName [space] (12345) where the number in parenthesis is your member number.

---

The first thing you will notice is that our products are arranged in groups. Some products may appear in more than one group but they are arranged in what seemed like a logical order. Your definition of logical may differ.

---

After you have selected the product group you will see the menu item you selected change to red text and the products in that group will be available down the page. As you can see in this graphic there are two types of products. One is a stand alone product like the Judging Reference Manual. You may just click on the (buy now) graphic to select that item.

The second type of product has selections within the product group like the 1963-67 NCRS Technical Information Guide and Reference Manual. Click on the highlighted product name, or the ...more info link to expand your choices.

---

Clicking on one of these selections will open up the product to allow you to choose among the options for this product. In this case it would be to choose which of the Judging Guides you wish to purchase.

---

Click on the appropriate bullet to select that product. Then Click on the [add this to my cart] button. This will add this product to your shopping cart. You can then select another product or go directly to your shopping cart or check out. After you have selected the product or products you wish to purchase you can click in one of two places. Checkout at the top of the page would be the shortest path to checking out if you have the correct items you wish to purchase in your shopping cart.

---

This shows your Shopping Cart page with the products that you selected. You can change the quantity in the Qty. box and then click on the refresh button beside it to update your quantity. Add or reduce the quantity as needed. You can also delete the product by clicking the Trash Can icon on the right of the Total. When you are ready click on the Checkout icon on the bottom left of the page./i>

---

At the Checkout page your will find a place to Log In if you have not on the left side of the page. If you are an NCRS member and have an account log in now. If your are not an NCRS Member or are not logged in you will find a form to fill in your Billing Address and your Shipping Address if different. If you are already logged in you will find your address information on the lower left of the page, and this area on the lower right. Enter your credit card information, or select PayPal at the bottom if you would prefer to pay through PayPal. Click Confirm Order at the bottom left of the page to finalize your order.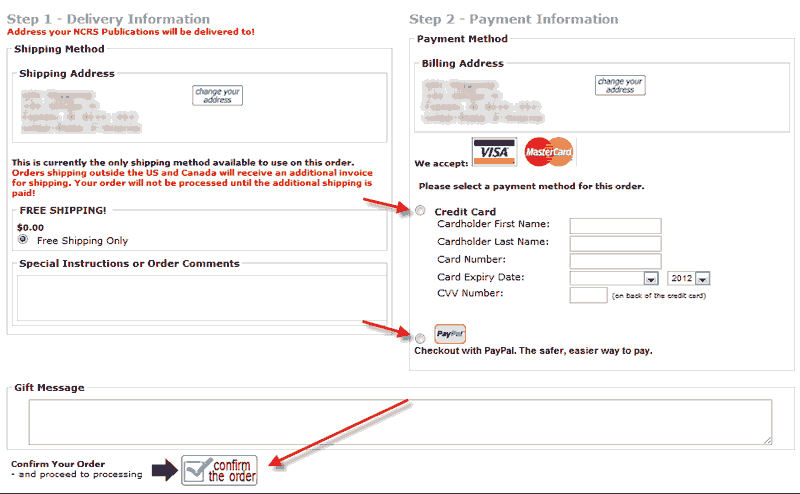 Create an account.
To create an account you need to go to this link. Here you will be asked to enter your membership number OR your first and last name and your postal code to identify yourself. After you are successful with that you will be asked to fill out some information and create a password. Take special note of your Username as it is assigned and it is case sensitive and spaces are required to be in the proper place. Your password will be whatever you enter it to be but please write it down along with your username for future use.
Setup Log In Details.
You will find these forms if you are not logged in. Please fill these in CAREFULLY. If you give us a bad address or e-mail address you may not receive your product. If you are Joining NCRS the name you type in here will be the name on your mailing label for your Driveline and Restorer Magazines. Please use proper capitalization, your post office will thank you. If you have a separate Shipping Billing Address un-check the box and a new form will appear for your Shipping Address.


Login Details: Please CAREFULLY fill in your e-mail address. You will receive confirmation of your order by e-mail if your e-mail address is correct. Chose a password that you will use for any future log in at the NCRS Online Store or other NCRS pages. Write it down. Your username will be e-mailed to you within a few minutes after your order is complete if you are a new member.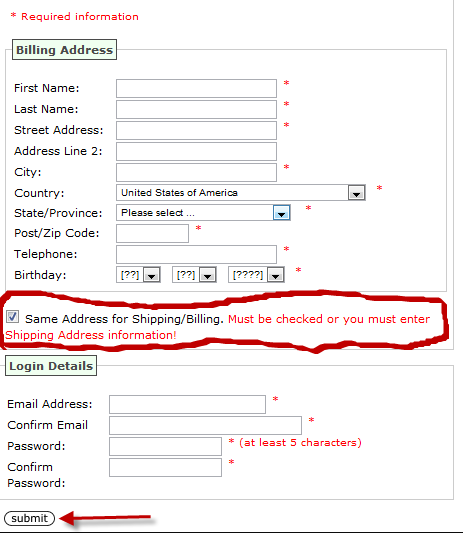 ---
Thanks. I hope this was helpful. If you still have trouble contact the HelpDesk for personal assistance.