NCRS Store Help
Joining NCRS as a new member.
Welcome! The following steps will walk you through Joining NCRS Online. When you join online your are immediately entered into our membership roster and can have full access to our member only sections within a few minutes. Your can also Join by Phone to  513-385-8526 or 513-385-6367 during normal business hours EST. You can also Fax your membership order to 24 Hour FAX Line: 513-385-8554. The Membership form to fax is located here.
---
The first thing you will notice is that our products are arranged in groups. Some products may appear in more than one group but they are arranged in what seemed like a logical order. Your definition of logical may differ. Click on Membership New & Renewal and the page will open up to reveal two choices. Chose the Join NCRS by clicking on it.

---

The next page will offer a lot of information about NCRS if you are interested. At the bottom of the page you will find the actual memberships to chose from. As you can see we offer one and two year memberships. We also have Canadian and all other postal regions. Prices are determined by the additional postage for Canadian and Overseas delivery of our publications. Click on the buy now icon beside the membership you wish to purchase.

---

You will now see that your purchase is now in your shopping cart.

---

You are now ready to Check out. Click on the Checkout link at the top of the page.

---

The next page will show the forms to fill out on the right side of the page for New Customers. Please enter your name and address in the proper case as that is how your mailing label will be printed.

Please enter your e-mail address correctly as this will be the address your order confirmation will be delivered to. Select a Password to be used in all Member areas of our website. Please write it down. Your username will be emailed to you with your order confirmation.

After filling in all of the required form blanks click on the submit button.

---

The final step is to confirm your order and make payment. At the top of this page you will see your complete order. Make sure you have the correct product and quantity selected. If you need to make a change there is an Edit button under Your Order Summary.

---

Check your Shipping address as this is where your NCRS Publications will be mailed. On the lower right side of the page you will find where you enter your Credit Card information to finalize your order. If you prefer your can select PayPal as your payment method and skip the Credit Card section. On the lower left of the page is a box where you can enter any Special Instructions or Comments about your order. When you have entered all required information Confirm the Order at the Bottom left of the page.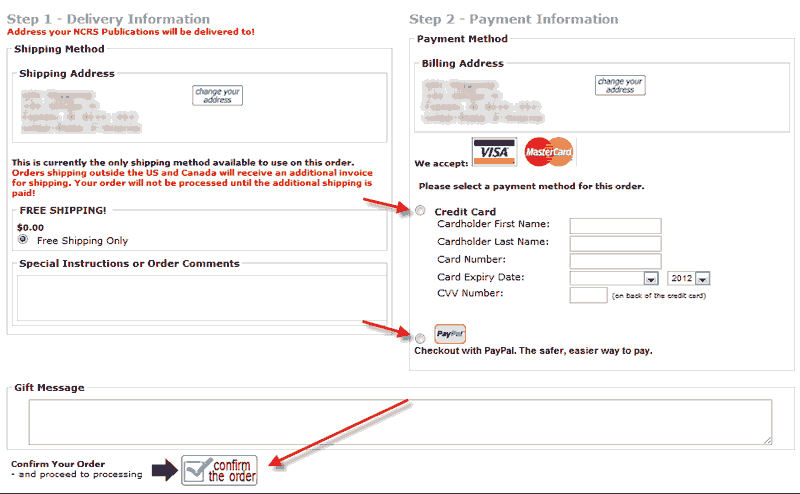 Thank you. Your order should now be complete. You should receive an order confirmation within a few minutes. I hope these instructions were helpful. If you still have trouble contact the HelpDesk for personal assistance.